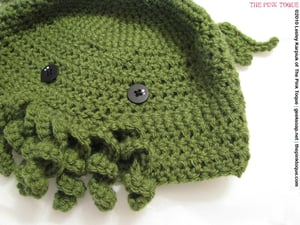 $

35.00
Is that a Cthulhu on your head, or are you just happy to see me?
The Cthulhu Toque is an original pattern of my own design that I sold on Etsy, but am now bringing to the geeky masses here along with all of my other original Cthulhu crochet designs. The idea of so much Cthulhu awesome in one place just made your head explode, didn't it?
Made from soft worsted weight yarn, this toque will surely make you the talk of the town during your next outing. This item is 100% handmade and features Cthulhu tentacles, wings, and sewn on buttons for eyes. Due to the button eyes, this product is not recommended for children. The baby version features sewn-on felt eyes instead of buttons
This particular size fits most and is stretchy with a lot of give. Be sure to snag a Baby Cthulhu Toque so you can match!
Disclaimer: While wearing a Cthulhu on your noggin is indicative of a coolness that cannot be surpassed, I am not responsible for brain loss as a result of allowing Cthulhu so close to your head. Go on... live a little!
Your Cthulhu Toque is lovingly handcrafted to your specifications after purchase, so please allow up to 10 business days for its creation. I make them as quickly as I can, but this gives me time to ensure I have the yarn and other supplies needed, have proper blocking time, and gives me enough wiggle room in the event I've got several orders in progress at once. This is especially important as we get closer to the holiday season!
Note: Due to high demand this product may be sold out; remember that I'm just one person and I can only crochet so many in a week's time so they can sell out quickly. If you wish to purchase a toque and it's sold out, check back next week or email me to get a status update.
Washing instructions: Your Cthulhu Toque is machine washable on a gentle cycle, however, I recommend handwashing with lukewarm water. Lay your toque flat to dry.
Goes well with my Cthulhu soap and Baththulhu Cthulhu Bath Mitt over at geeksoap.net, too! :)
Got crochet skills? Purchase the pattern here in my shop instead!